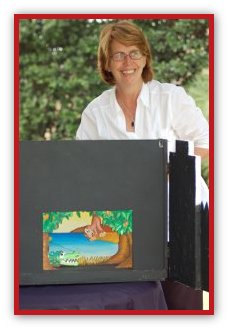 Machteld van Nieuwkerk
I was born in the Netherlands and come from a family of extremely creative people. My mother was an artist and my father had an exceptional gift for storytelling. From the age of eight I started to make my own puppets and perform stories. It was in this stimulating environment where my love for puppetry began.

More than 21 years ago I decided to change puppetry from a hobby into a fulltime profession where the love for children and that of puppets, combined, has led to a successful career.

I attended numerous courses and workshops on puppetry, both locally and internationally and have attended festivals in both Europe and America.

I have created many of my own imaginative scripts and designs and made many of my own puppets and marionettes that have accompanied me around the world.

As part of a group, I worked at the State Theatre in Pretoria for a year on several marionette productions. Along with this group I traveled to Denmark in 1999.

In 2000 I was invited to perform at the Papierntheater-treffen in Preetz, Germany, a festival for Paper Theatre, and returned in both 2002 and 2004.

In 2005 I performed with my marionettes for the summer festival in Doha, Qatar. 2005 found me performing Paper Theatre in Köln, Germany and in Husum, Germany, in 2007,
2009 saw me performing in Hardewijk at the international paper theater festival.

I have also worked on different television productions for both local and international TV.

I do not only aim to entertain audiences but also to educate with the ultimate goal of tons of laughter in a fun yet traditional way.